BAR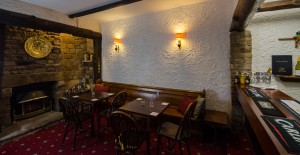 Our cosy snug Bar with inglenook fireplace offers a well stocked bar with a wide selection of wines, spirits, liqueurs, soft drinks and bottled cider, lager & beers and is open to residents and non residents.
BEDROOMS
All of our nine Bedrooms offer en-suite facilities, some are en-suite bathrooms, and some are en-suite shower rooms. The rooms also have a hospitality
tray offering a selection of tea, coffee, hot chocolate, water and biscuits. Many of these items are Fair Trade and we are looking to expand our selection of Fair Trade products. There are televisions, hair dryers and radio alarm clocks in all of the rooms. Our superior rooms the Derwentwater room with King size Four Poster Bed and the Stuart room with King size bed also offer DVD players and CD/radio alarm clocks. Free WiFi is available, though it is not possible to guarantee reception in all the bedrooms due to the construction of the Manor.
DINING ROOM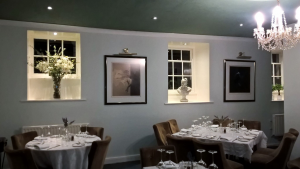 Breakfast and evening meals are served in The Restaurant.  All our products are sourced locally where possible. Our award winning Breakfast Menu (link to our breakfast menu) offers a wide selection to suit most tastes. Evening meals are available when booked in advance.  All our food is home cooked to order and we welcome residents and non residents alike.  Menus change regularly, click here to view this month's menu.
GUEST LOUNGE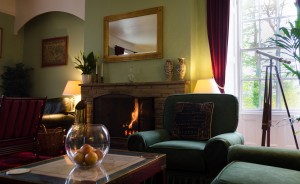 The Guest Lounge with real wood fire, is a very comfortable and relaxing room. It offers a good selection of books, magazines and daily newspapers
together with a wide range of information on local walks, cycling and driving routes.  There are also a selection of card and
board games for our younger visitors or for those of you who are just young at heart. Free WiFi is available in the guest lounge.
GARDEN

Our informal gardens offer an ideal habitat for wildlife. We have a large variety of small garden birds who visit the feeders daily including Chaffinches, Blue Tits, Blackbirds and Robins, there are also a number of Pheasants who take advantage of the low feeders every morning. Our native Red Squirrel who enjoys visiting the feeder, on the 100ft Sequoia Tree, which is otherwise known as an American Red Wood Tree. We are also lucky enough to spot Roe Deer who use our garden to commute daily to their favourite feeding spots. In the summer months there are tables and chairs for you to sit and enjoy the wildlife and countryside around you.