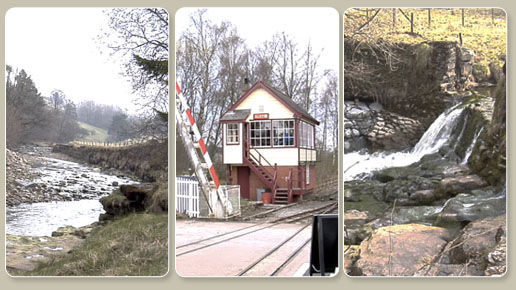 Day Trips from Lowbyer Manor:
The Western Yorkshire Dales;
In order to get the most out of this day trip, you should get as far south as soon as possible. Take the scenic run over the Pennines on the A686, to Penrith, where you can jump onto the M6 and run south to junction 36. From this junction, head east on the A65, back into the Dales for Kirkby Lonsdale, turning onto the A683, from where you can see the famous Devil's Bridge, a 12th century monument spanning the River Lune, with its 3 graceful arches. Park and stroll down the riverside path into Kirkby Lonsdale, where another lovely spot awaits... Ruskin's View, from St. Mary's churchyard. The view of the River from this point inspired the famous painting by Turner.
Now head north on the A683, look for the Brigflatts Quaker Meeting house, just 1.5 miles south of Sedburgh. This building dates from 1675 and is the oldest meeting house in the north of England. Once at Sedburgh, a lovely walk awaits at Castlehaw Tower, just east of the town. Do visit the Tourist Info Centre in Sedburgh, for greatly detailed information on this part of the Yorkshire Dales. Now head east, through Garsdale, on the A684, until you reach the B6259. Watch for the Settle-Carlisle Railway signs, and if they are running, consider a trip on one of the most scenic rail lines in Britain! Turn north, heading for Pendragon Castle, in Mallerstang... This was said to be the home of Uther Pendragon, father of King Arthur. The present ruins a Norman, dating from Henry II.
A short run now brings you to Kirkby Stephen, from which you can visit any one of a number of local delights; Nine Standards Rigg, just east, is on the Coast to Coast walking trail, and this circle of cairns is at the moment, of unknown origin. A lovely spot just west of the town is the Smardale Nature Reserve, where photographers can get a great shot of the Smardale Viaduct, on the Settle-Carlisle Railway Line.
Don't forget to stroll around Kirkby Stephen itself, and take in a lunch or cream tea!
If you can get all of these spots in during just one day, you must be a magician! But if you do have a bit of time left, on the way back to Alston; stop at Brough Castle, you won't regret the stop!
Now swing northwest past Brough, to Penrith, and take the A686 back over the Pennines to Alston. Alternatively, one could venture east on the A66 to Barnard Castle, then northwest on the B6277 for Alston; either way, the views are just beautiful, and dinner in Alston awaits.
For more information, visit the Yorkshire Dales website.
Durham and the Durham Dales | Hadrian's Wall Country | Lake District | North Yorkshire Dales | West Yorkshire Dales