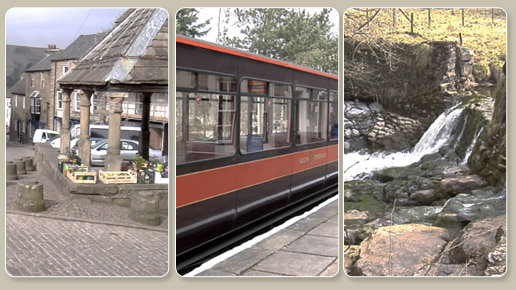 Why Alston?
Lowbyer Manor is situated in the town of Alston, on the upper reaches of the South Tyne River. Alston is the highest market town in England, though markets are no longer held in the town. It grew up as the centre of the leadmining industry over four hundred years ago. The mines are now long gone, however the cobbled streets, original buildings make the town popular for period costume dramas produced by the television and film industries, notably Oliver Twist and Jane Eyre.
In town there are galleries to view locally produced crafts and works of art, notably Gallery 1611 on Market Place and also The Cane Workshop in Stokoe House where traditional methods are used to repair cane furntiture.
Just a hundred yards from the Manor is the South Tynedale Railway; which is the highest narrow gauge railway in England. Opposite the station is the Hub Museum; which contains a collection of vintage cars including MGs, motorbikes and other items relating to local transport in the good old days.
Around Alston there are many walks to suit all levels of walkers, from gentle walks around Alston town centre to the South Tyne Trail. For the more adventurous, there is the Pennine Way which pass through Alston with Cross Fell a half day walk away. For more walks and the facilities that we can offer walkers, please visit our walkers page.
For the cyclists amongst you, there are numerous routes; ranging from the recently launched Wheels to the Wild route around the North Pennines AONB to one day routes around Alston and Alston Moor. Visit our cycling page of the website for more information about the area and the facilities that we can offer cyclists.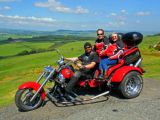 If you're wondering what to do in Cumbria why not explore the North Pennines and the Lake District the fun way on a 1400 cc 3 seater chauffeured trike, just like Billy Connolly on Route 66. NORTH OF ENGLAND TRIKE TOURS have over 70 tours around Northern England. See Hadrian's wall, Holy Island, the Lakes, dales, moors and much more. Hotel pick up is available. Call 07787816017.
Alston is situated in the North Pennines; which is England's second largest Area of Outstanding Natural Beauty (AONB). It is a landscape of high, wild moorland and welcoming dales, with some of Britain's most charismatic wildlife, including otters, red squirrels, black grouse and rare alpine flora. The AONB is also a UNESCO European and Global Geopark, in recognition of its outstanding geology. The North Pennines AONB also has more 'Open Access Land' than any other protected landscape in the country, allowing you to explore this exciting countryside 'off the beaten track'.