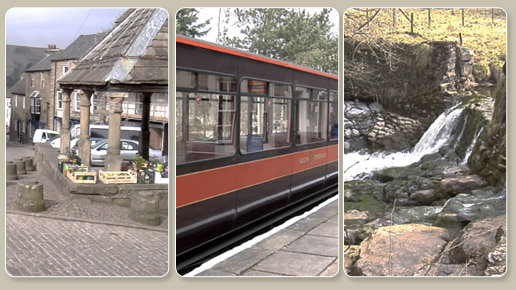 Events
This page is regularly updated, so please visit again soon for more information, thank you.
Farmers' Markets 2015
Orton Farmers' Market
National Farmers' Market of the year 2005. This authentic FARMA accredited Farmers' Market, set in the heart of a traditional fell farming community, offers a tremendous range of award-winning and specialty produce. Held on the 2nd Saturday of every month 9.30-2.30pm Orton Farmers' Market
Penrith Farmers' Market
Penrith's markets offer something special for the discerning customer. From local produce and crafts to everyday consumables you'll find it here. Farmers' Market held on the 3rd Tuesday of the month (Mar-Dec) 9am - 2.30pm & Charter Market Every Tuesday Penrith Markets
Brough Farmers' Market
Brough's certified Farmers' Market is a popular local attraction, with a wide range of quality foods on offer from local producers. Come and talk to the producers and feel their enthusiasm for the wonderful food they produce. Our market is indoors at the Memorial Hall, so there is no worry about Cumbrian weather. Held on the 3rd Saturday of every month 9.30am - 2pm (Jan - Mar 9.30am - 1pm) Brough Farmers' Market
Pooley Bridge Market
Held on the last Sunday of every month - April to September Pooley Bridge Farmers' Market
Hexham Market
Held every Tuesday in the market place opposite Hexham Abbey, lots of quality food stalls and much more.
The following list is just a selection of the events on offer - check out seeitdoit.org.uk for a full list of what's on near here or Visit Cumbria
July 2015
Tue 21st ~ Cumbrian Fish Supper at Ullswater Steamers CA11 0US Tel: 01768 482229
Tues 21st ~ LDNP Commentary Cruises at Ullswater Steamers CA11 0US Tel: 01768 482229
Wed 22nd ~ Cumbrian Fellsman Railtour at Ullswater Steamers CA11 0US Tel: 01768 482229
Fri 24th - Sun 26th ~ Potfest in the Park at Hutton-in-the-Forest CA11 9TH Tel: 01768 484449
Sat 25th ~ Alston Live 2015 this music festival is a one-day event happening from 12 noon until dusk (sometime around 10 o'clock) There are two stages, a main stage and a smaller second stage as well as lots of things to do, to eat and of course to drink. Advanced Tickets £20 or £25 on the day (limited availablity). SO GET YOUR TICKET NOW!!
Sat 25th ~ Penrith Agricultural Show at Brougham Hall Farm CA10 2DE
Sun 26th ~ 'Steam Live' at the South Tynedale Railway - Wandering Minstrels & Music on the Platform Trains from 10.30am-4.30pm
Sun 26th ~ North West Carriage Driving at Dalemain Historic House & Gardens CA11 0HB Tel: 01768 486450
Tues 28th ~ Cumbrian Fish Supper at Ullswater Steamers CA11 0US Tel: 01768 482229
Wed 29th ~ Cumbrian Fellsman Railtour at Ullswater Steamers CA11 0US Tel: 01768 482229
Thur 30th - Sun 2nd Aug ~ Kendall Calling 2015 at Lowther Deer Park CA10 2HN
Fri 31st & Sat 1st Aug ~ Real Silver Jewellry Making at Greystoke Cycle Cafe CA11 0UT Tel: 01768 483984
Fri 31st - Sun 2nd Aug ~ Potfest in the Pens at Penrith Auction Mart CA11 0DN
August 2015
Tues 4th ~ Cumbrian Fish Supper at Ullswater Steamers CA11 0US Tel: 01768 482229
Tues 4th ~ LDNP Commentary Cruises at Ullswater Steamers CA11 0US Tel: 01768 482229
Tues 4th & Wed 5th ~ Traditional Long Bow Making two day course at Greystoke Cycle Cafe CA11 0UT Tel: 01768 483984
Wed 5th ~ Play Day 2015 at Killhope Lead Mining Museum DL13 1AR Tel: 01388 537505 Children FREE with a paying adult
Wed 5th - Tues 1st September ~ 'Craftsmen at the Priory' the 37th Annual Exhibition, 12 Established Craftspeople display their work in the beautiful medieval Dacre Hall, Lanercost Priory CA2 6QR Open every day 10am-5pm Admission £1.00 accompanied children FREE Tel: 01228 514877
Sat 8th ~ Fell Pony Breed Show at Dalemain Historic House & Gardens CA11 0HB Tel: 01768 486450
Sat 8th & Sun 9th ~ The Lowther Show at Lowther Castle & Gardens CA10 2HH Tel: 01931 712192
Sun 9th ~ 'Kids Spar Box Workshop' at Killhope Lead Mining Museum DL13 1AR 1.30pm £8.00 Tel: 01388 537505
Sun 9th ~ A Foray into the World of Dowsing at Greystoke Cycle Cafe CA11 0UT Tel: 01768 483984
Tue 11th ~ Cumbrian Fish Supper at Ullswater Steamers CA11 0US Tel: 01768 482229
Wed 12th ~ Cumbrian Fellsman Railtour at Ullswater Steamers CA11 0US Tel: 01768 482229
Fri 14th ~ 'Antiques & Collectors Fair' at Parkin Memorial Hall, Pooley Bridge 10am-4pm Entry 50p Mob: 07841 145692
Tues 18th ~ Cumbrian Fish Supper at Ullswater Steamers CA11 0US Tel: 01768 482229
Tues 18th ~ LDNP Commentary Cruises at Ullswater Steamers CA11 0US Tel: 01768 482229
Wed 19th ~ Cumbrian Fellsman Railtour at Ullswater Steamers CA11 0US Tel: 01768 482229
Thur 20th & Fri 21st ~ Traditional Long Bow Making two day course at Greystoke Cycle Cafe CA11 0UT Tel: 01768 483984
Fri 21st ~ Them Be Pirates at Ullswater Steamers CA11 0US Tel: 01768 482229
Sun 23rd ~ 'Victorian Day Out' bought to life at Killhope Lead Mining Museum DL13 1AR Tel: 01388 537505 Normal Admission applies
Sun 23rd ~ Classic Car Show at Dalemain Historic House & Gardens CA11 0HB Tel: 01768 486450
Tues 25th ~ Cumbrian Fish Supper at Ullswater Steamers CA11 0US Tel: 01768 482229
Wed 26th ~ Cumbrian Fellsman Railtour at Ullswater Steamers CA11 0US Tel: 01768 482229
Sat 29th -Mon 31st ~ The Great British Food Festival at Dalemain Historic House & Gardens CA11 0HB Tel: 01768 486450
September 2015
Sun 12th - Sun 27th ~ C-ART Cumbria Artists Open Studios at Dalemain Historic House & Gardens CA11 0HB Tel: 01768 486450
Sat 26th & Sun 27th ~ Stained Glass Panel Making at Greystoke Cycle Cafe CA11 0UT Tel: 01768 483984
Sun 27th ~ Beginners Artistic Blacksmithing & Metal Forging at Greystoke Cycle Cafe CA11 0UT Tel: 01768 483984
October 2015
Thur 8th - Sun 11th ~ RSPB Red Deer Rut at Ullswater Steamers CA11 0US Tel: 01768 482229
Sat 31st ~ Ghostly Galleon at Ullswater Steamers CA11 0US Tel: 01768 482229
November 2015
Sun 1st ~ Life Head Sculpture in Clay with Fliss Watts at Greystoke Cycle Cafe CA11 0UT Tel: 01768 483984
Thur 5th ~ Dawn Photography at Ullswater Steamers CA11 0US Tel: 01768 482229
Thur 12th ~ Willow Sculptures in the Garden, Sheep at Greystoke Cycle Cafe CA11 0UT Tel: 01768 483984
Fri 27th ~ Lino Cut Printing with Janet Dickson at Greystoke Cycle Cafe CA11 0UT Tel: 01768 483984
Sat 28th & Sun 29th ~ Real Silver Jewellry Making Weekend at Greystoke Cycle Cafe CA11 0UT Tel: 01768 483984
December 2015
Thur 10th ~ Willow Sculptures, Hares for the Garden at Greystoke Cycle Cafe CA11 0UT Tel: 01768 483984
Sat 12th ~ Santa Cruises & Christmas Magic at Ullswater Steamers CA11 0US Tel: 01768 482229