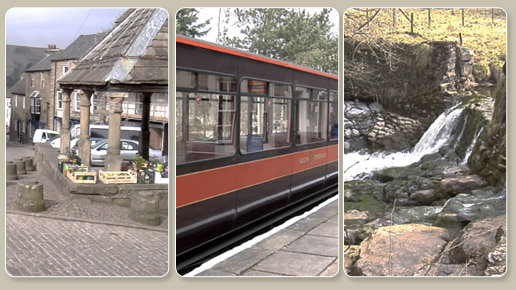 Events
This page is regularly updated, so please visit again soon for more information, thank you.
Farmers' Markets 2015
Orton Farmers' Market
National Farmers' Market of the year 2005. This authentic FARMA accredited Farmers' Market, set in the heart of a traditional fell farming community, offers a tremendous range of award-winning and specialty produce. Held on the 2nd Saturday of every month 9.30-2.30pm Orton Farmers' Market
Penrith Farmers' Market
Penrith's markets offer something special for the discerning customer. From local produce and crafts to everyday consumables you'll find it here. Farmers' Market held on the 3rd Tuesday of the month (Mar-Dec) 9am - 2.30pm & Charter Market Every Tuesday Penrith Markets
Brough Farmers' Market
Brough's certified Farmers' Market is a popular local attraction, with a wide range of quality foods on offer from local producers. Come and talk to the producers and feel their enthusiasm for the wonderful food they produce. Our market is indoors at the Memorial Hall, so there is no worry about Cumbrian weather. Held on the 3rd Saturday of every month 9.30am - 2pm (Jan - Mar 9.30am - 1pm) Brough Farmers' Market
Pooley Bridge Market
Held on the last Sunday of every month - April to September Pooley Bridge Farmers' Market
Hexham Market
Held every Tuesday in the market place opposite Hexham Abbey, lots of quality food stalls and much more.
The following list is just a selection of the events on offer - check out seeitdoit.org.uk for a full list of what's on near here or Visit Cumbria
August 2015
Tues 25th ~ Cumbrian Fish Supper at Ullswater Steamers CA11 0US Tel: 01768 482229
Wed 26th ~ Cumbrian Fellsman Railtour at Ullswater Steamers CA11 0US Tel: 01768 482229
Sat 29th -Mon 31st ~ The Great British Food Festival at Dalemain Historic House & Gardens CA11 0HB Tel: 01768 486450
September 2015
Sun 12th - Sun 27th ~ C-ART Cumbria Artists Open Studios at Dalemain Historic House & Gardens CA11 0HB Tel: 01768 486450
Sat 26th & Sun 27th ~ Stained Glass Panel Making at Greystoke Cycle Cafe CA11 0UT Tel: 01768 483984
Sun 27th ~ Beginners Artistic Blacksmithing & Metal Forging at Greystoke Cycle Cafe CA11 0UT Tel: 01768 483984
October 2015
Thur 8th - Sun 11th ~ RSPB Red Deer Rut at Ullswater Steamers CA11 0US Tel: 01768 482229
Sat 31st ~ Ghostly Galleon at Ullswater Steamers CA11 0US Tel: 01768 482229
November 2015
Sun 1st ~ Life Head Sculpture in Clay with Fliss Watts at Greystoke Cycle Cafe CA11 0UT Tel: 01768 483984
Thur 5th ~ Dawn Photography at Ullswater Steamers CA11 0US Tel: 01768 482229
Thur 12th ~ Willow Sculptures in the Garden, Sheep at Greystoke Cycle Cafe CA11 0UT Tel: 01768 483984
Fri 27th ~ Lino Cut Printing with Janet Dickson at Greystoke Cycle Cafe CA11 0UT Tel: 01768 483984
Fri 27th - Sun 29th ~ Alston Moor Crafts - Christmas Craft Fair at Alston Town Hall Tel: 01434 382244
Sat 28th & Sun 29th ~ Real Silver Jewellry Making Weekend at Greystoke Cycle Cafe CA11 0UT Tel: 01768 483984
December 2015
Thur 10th ~ Willow Sculptures, Hares for the Garden at Greystoke Cycle Cafe CA11 0UT Tel: 01768 483984
Sat 12th ~ Santa Cruises & Christmas Magic at Ullswater Steamers CA11 0US Tel: 01768 482229