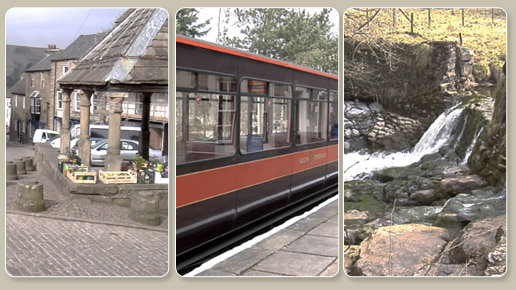 Events
This page is regularly updated, so please visit again soon for more information, thank you.
Farmers' Markets 2014
Orton Farmers' Market
National Farmers' Market of the year 2005. This authentic FARMA accredited Farmers' Market, set in the heart of a traditional fell farming community, offers a tremendous range of award-winning and specialty produce. Held on the 2nd Saturday of every month 9.30-2.30pm Orton Farmers' Market
Penrith Farmers' Market
Penrith's markets offer something special for the discerning customer. From local produce and crafts to everyday consumables you'll find it here. Farmers' Market held on the 3rd Tuesday of the month (Mar-Dec) 9am - 2.30pm & Charter Market Every Tuesday Penrith Markets
Brough Farmers' Market
Brough's certified Farmers' Market is a popular local attraction, with a wide range of quality foods on offer from local producers. Come and talk to the producers and feel their enthusiasm for the wonderful food they produce. Our market is indoors at the Memorial Hall, so there is no worry about Cumbrian weather. Held on the 3rd Saturday of every month 9.30am - 2pm (Jan - Mar 9.30am - 1pm) Brough Farmers' Market
Pooley Bridge Market
Held on the last Sunday of every month - April to September Pooley Bridge Farmers' Market
Hexham Market
Held every Tuesday in the market place opposite Hexham Abbey, lots of quality food stalls and much more.
The following list is just a selection of the events on offer - check out seeitdoit.org.uk for a full list of what's on near here or Visit Cumbria
September 2014
Sat 13th - Sun 28th ~ C-ART Cumbria open studio trail 10am - 5pm (Closed Monday & Tuesday) at Leazes House, Ayle, Nr Alston, Cumbria CA9 3NH - Contact Jane Willis Tel: 01434 382682 E: janewillisart@gmail.com or W: www.janewillisart@gmail.com
Sat 20th - Sun 28th ~ ' Ullswater Walking Festival' - Serene and tranquil Ullswater valley offers fantastic walking opportunities - from gentle lakeshore strolls to challenging airy high fell hikes. In celebration of this iconic Lake District area the Ullswater Walking Festival will be taking place from 20 to 28 September 2014. Over 20 fabulous walks for this festive week will help you discover and explore some of lakeland's most stunning scenery. The experienced walk leaders guide you to some of our very favourite special spots. Ullswater Steamers are offering you a chance to experience one of our wonderful steamer walks – boat fare just £1 – only available on our festival walks! A Two Dales Round takes you along the shores of Ullswater, then up secluded Fusedale and down historic Martindale.
Fri 26th - Sun 28th ~' Indian Summer Hill Railways' - An Indian themed weekend with a visiting locomotive from the Indian narrow gauge railways, Indian food and music at the South Tynedale Railway
Sat 27th ~ 'Tales of the Forgotten North' - Another chance to join storyteller, Malcolm Green from A Bit Crack and our AONB Partnership staff as we walk through Upper Teesdale and learn about the land. Followed by an evening presentation of information acquired throughout the day at Bowlees Visitor Centre
October 2014
Thurs 2nd ~ 'Kirby Lecture - A Talk by Andrew Motion' - Grasmere Village Hall at 7.30pm. The former Poet Laureate and president of CPRE will give this year's Kirby Lecture, exploring how Wordsworth and the Lake District helped create the romantic notion of landscape and hence the early conservation movement. For more details Visit www.fld.org.uk/whats-on or Tel: 01539 720788
Fri 3rd - Sun 5th ~ Fly fishing Film Festival - Fly Fair & Trade Expo at Rheged A celebration of the very best fly film, fly tying, fly casting, fly fishing photography, speakers and trade exhibitors. www.flyfest.org www.facebook.com/flyfilmfestUK 10am - 5:30pm • £8 online £10 at the door
2nd week of October ~ Red Deer Rut with RSPB at Ullswater Steamers
Sat 11th - Mon 13th ~ Painting Course: 'Everything you need to know about painting things' at Rose House Studio, Garrigill must be booked in advance Tel: 01434 381092
Sun 12th ~ Cake and Bake Fair at Rheged As part of National Baking Week Treat yourself to a variety of delicious freshly baked goods, including cakes and breads from local shops and bakers, plus an array of stylish kitchen gadgets 10am-4pm • Free entry
Tues 14th ~ 'Coptic Books Workshop' with Kate Jackson at Leazes House, Ayle, Nr Alston, Cumbria CA9 3NH - All materials, tea, coffee and lunch included at £55 per person. Contact Jane Willis Tel: 01434 382682 E: janewillisart@gmail.com or W: www.janewillisart@gmail.com
Sun 19th ~ Colin Caygill Antiques Fair at Rheged Vintage classics, ceramics, silver, clothing and jewellery.10am – 4.00 pm • £1.20 entry
Tues 21st ~ 'Felting 3D Workshop' with Kate Jackson at Leazes House, Ayle, Nr Alston, Cumbria CA9 3NH - All materials, tea, coffee and lunch included at £55 per person. Contact Jane Willis Tel: 01434 382682 E: janewillisart@gmail.com or W: www.janewillisart@gmail.com
Thurs 23rd ~ Photographing the Stars - Join our Dark Skies team and local astronomer Graham Relf to get the best out of the night sky at Bowlees Visitor Centre
Sat 25th ~ Basic Composition and Camera Craft - Camera workshop aimed at beginners. Run by Natural England at Bowlees Visitor Centre
Sat 25th & Sun 26th ~ Rival Arts' Autumn Craft Fair at Rheged An inspirational and exciting mix of exhibitors, featuring quality work from artists, photographers, jewellers, craft & artisan food sellers. www.rivalarts.co.uk 10am - 4pm • Free Admission
Sun 26th ~ Harvest and Gift Fair at Rheged Pick up some harvest treats from local crafts people, artisans and producers 10am-4pm • Free entry
Fri 31st ~ Halloween Spooktacular! - Join us for a spooky celebration! With pumpkin carving, storytelling, Halloween crafts and much more at Bowlees Visitor Centre
Fri 31st & Sat 1st Nov ~ Halloween Spooktacular - Apple bobbing, pumpkin carving and face-painting activities followed by an evening ceilidh with live band at the South Tynedale Railway
Fri 31st ~ Halloween Ghostly Galleon at Ullswater Steamers
Date TBC ~ 'Fell Care Day' at Coniston - For more details Visit www.fld.org.uk/whats-on
November 2014
Sun 9th ~ Rememberance Day - WWI locomotives THOMAS EDMUNDSON in service. The first train departs after the sounding of the Last Post. Service personnel travel FREE at the South Tynedale Railway
Sat 15th ~ Wild Autumn - Celebrate the change of the season with a host of wildlife and landscape inspired activities, for all ages at Bowlees Visitor Centre
Wed 26th ~ 'Fell Care Day' at Grasemere - For more details Visit www.fld.org.uk/whats-on
Fri 28th - Sun 30th ~ Alston Moor Crafts - 'Christmas Craft Fair' at Alston Town Hall (Dates TBC)
Sat 29th ~ Appleby Sparkle Day
December 2014
TBC ~ Christmas events throughout Eden
Sat 13th ~ Winter Wonderland - Christmas craft making, woodland trail and grotto, festive face painting and a host of seasonal inspired food at Bowlees Visitor Centre
Sat 13th & Sun 14th ~ Santa Specials - All aboard for a seasonal train ride and refreshments, Christmas carols and a visit to Santa's grotto with a present for every good boy and girl at the South Tynedale Railway
Sun 14th ~ Christmas Food and Gift Fair at Rheged The opportuity to buy Christmas gifts and treats from over 30 local craftspeople and producers 10am-4pm • free entry
Sun 14th ~ Colin Caygill Antique Fair at Rheged Vintage classics, ceramics, silver, clothing and jewellery 10am – 4.00 pm • £1.20 entry

Sat 20th - Mon 22nd ~ Santa Specials - All aboard for a seasonal train ride and refreshments, Christmas carols and a visit to Santa's grotto with a present for every good boy and girl at the South Tynedale Railway